Hotmapping.co.uk have complete aerial heat-loss data sets of most of London and all of Norwich. Other locations may follow, and specific areas can always be commissioned.
You can get an immediate quote for a colour coded map of any area covered by our data starting from 0.5 sq km. Click here to send us your requirements.
The surveys were carried out in 2000 by Horton Levi Ltd, specialists in thermal imaging. Using military specification equipment and flying at approximately 2000 ft, the images reveal heat loss in remarkable detail.
Thermal data is recorded in monochrome to retain full resolution. Conversion to colour is useful for specific analysis and presentation purposes.



This image clearly highlights an underground heating system. The highlighted area reveals a leak in the system which would otherwise be undetected.
The surveys can be used for many purposes. Housing stock can be analysed for efficiency and larger individual buildings can be analysed for weak insulation points. Heat emissions from factories can be identified and remedial action taken. Housing Associations and local authorities can study their entire stock from one data set. Poorly heated housing can be identified to help prevent winter deaths.

The benefits of insulation programmes can be seen, and housing in need of attention is easily highlighted.

This data is available now. As well as saving thousands of pounds on commissioning an individual survey, you won't have to wait until next winter which is when further surveys can take place. Data is provided on CD-ROM in monochrome and can be optionally colourised. All the data can be geo-rectified and joined together to provide in a format suitable for your GIS.
Using our therma-spatial analysis system the data can be interpreted and colour coded in your map system. This enables fast analysis of problem buildings. See Services for more details.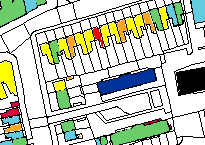 Prices depend on the size of the area required - contact us now for an immediate quotation.